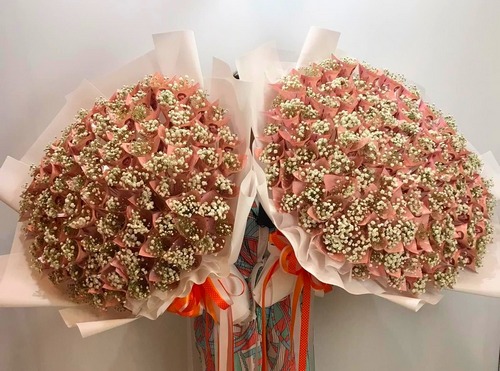 Money holds a special significance in Thai culture, where it is seen as a manifestation of care and love. In Bangkok, Thailand, cash bouquets have gained popularity as a unique and thoughtful gift option. At our flower shop, we offer two types of cash bouquets: bouquets made solely from banknotes (with a minimum of natural green filler) and bouquets combining banknotes with beautiful fresh flowers. In this article, we will explore the process of creating cash bouquets in Bangkok, from the selection of banknotes to the delivery of these exquisite gifts.
Why money is considered the best gift in Thailand
In Thai culture, money is more than just a financial token; it is a symbol of care and love. Gifting money is seen as a way to support and show affection to the recipient. Therefore, money bouquets have become a popular choice for various occasions, including weddings, birthdays, and celebrations.
Types of cash bouquets available in Bangkok:
Our flower shop in Bangkok offers two types of cash bouquets:
– Bouquets made solely from banknotes: These bouquets are meticulously crafted using fresh and crisp banknotes, creating an elegant and eye-catching arrangement. We decorate such bouquets with a small amount of green filler (for example, gypsophila inflorescences).
– Bouquets combining banknotes with fresh flowers: In this option, our professional florists skillfully incorporate fresh flowers into the arrangement (e.g. premium imported roses), complementing the beauty of the banknotes.
Stages of creating money bouquets in Bangkok
Creating of any cash bouquet involves several steps:
Receipt of banknotes
After ordering, our store must receive new or fresh as possible banknotes from the bank, so that individual banknotes or cash roses from several banknotes look good.
Money bouquet creation
Our skilled florists craft cash roses and arrange them beautifully in a bouquet. Alternatively, banknotes are placed in individual transparent packaging and incorporated into the bouquet.
Additional decoration of cash bouquets
To enhance the visual appeal of the money bouquet, we use vibrant gift wrapping and adorn it with a ribbon and bow.
Preparing a personalized greeting card
During the checkout process, customers have the opportunity to include a personal message for the recipient. We print your message on a branded postcard and attach it to the bouquet, adding a thoughtful touch.
Features of money bouquet delivery in Bangkok
Given the value and sometimes substantial size of cash bouquets, regular couriers are not suitable for their delivery. Therefore, we utilize a special car to ensure safe and timely delivery within Bangkok or to the nearest provinces.
Time required to create money bouquets in Bangkok
We recommend placing cash bouquet orders in advance, preferably at least two days before the desired delivery date. Creating money roses is a meticulous and time-consuming task. Even for an experienced florist, crafting 25 beautiful large roses (100 banknotes) or a bouquet of 50 roses (2 banknotes each) requires approximately 3-4 hours. Afterward, all cash roses need to be affixed to individual stems and artfully arranged within the bouquet.
The value of money bouquets in Bangkok
Our store offers money bouquets with various designs, ranging from 2,000 to 20,000 baht (approximately $57 to $570) as a gift. However, we understand the importance of catering to individual preferences. Hence, we can customize the denomination of banknotes used in any chosen cash bouquet, adjusting the amount of money and the bouquet's total price accordingly.
Payment options for cash bouquets in Bangkok
To facilitate convenient transactions, we accept direct bank transfers, including Wise transfers from most countries, as well as payments via bank cards.
Cash bouquets in Bangkok offer a unique and thoughtful way to express care and affection for your loved ones. Our flower shop in Bangkok takes pride in creating exquisite cash bouquets, either solely from banknotes or in combination with fresh flowers. By providing high-quality craftsmanship, personalized messages, and secure delivery, we strive to make every cash bouquet a memorable gift in the heart of Thailand.